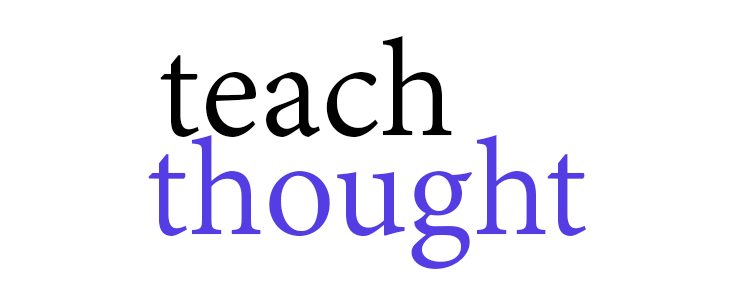 Contact
TeachThought can be reached via email here.
Who We Are
TeachThought, LLC is a progressive learning brand dedicated to supporting educators in evolving learning for a 21st century audience.
Most visibly, this starts with thought leadership and practical solutions for K-20 teachers via the TeachThought blog. It then extends to our design of learning models, curricula, technology, apps, and other learning tools to experiment with a combination of utopic opining and data-driven and research-supported thinking.
TeachThought is primarily interested in exploring new learning models, including blended learning, project-based learning, self-directed learning, and the role of play in learning while also supporting existing K-20 educators as they seek to improve their own craft in practice today. So, a balance of reality and possibility.
Our Director

Terry Heick is a former English teacher turned education dreamer who is interested in how learning is changing in a digital and connected world. This includes, among other changes, the rise of self-directed learning.
He is also interested in the power of questions, the role of play in learning, clarifying digital literacy, the flexibility of project-based learning, marrying mobile learning and place-based education (especially through mentoring), the potential of video games and simulations in learning, what it really means to "understand" something, and how all of this produces wisdom and self-knowledge in students.
In addition to his work with TeachThought, he also presents at national conferences, provides professional development for schools, blogs for edutopia, and creates content for companies including learn.ist.
Mission
TeachThought's mantra is simple: learn better.
Our mission is illuminate and actuate optimal learning for everyone, everywhere. This starts with helping smart teachers teach smart, and it extends to work with like-minded organizations to bring visibility and traction to their ideas.
The pie-in-the-sky goal is a modern enlightenment that results in healthy communities and interdependent citizens–and we believe that this can happen much more simply than it'd seem.
The secret is to change the way people think about learning. It's possible more than ever to create learning spaces that are personalized, self-directed, social, and creative. This requires new tools and models, but more importantly a paradigm shift in how everyone–educators and otherwise–thinks about "education."
What Makes TeachThought Different?
There are a lot of great blogs and organizations out there. What makes TeachThought unique is our macro view of the learning process, from culture and community to specific classroom practice. We are a brand that participates in every level of teaching and learning, from the dreaming to the practice.
Influences
It is our position that all learning should result in substantive personal and social change.
Our ideas are heavily influenced from a wide variety of thinkers, from Wendell Berry to David Foster Wallace, David Hume to Henry David Thoreau, Jean Paul Sarte to Jeremy Bentham, Ken Robinson to Daniel Pink, Maria Popova to Grant Wiggins–and countless souls in between.
This concept includes the relationship between culture, communities, and the institutions and curriculum purported to serve them, as well as emerging technologies and media.
Guest Post Policies
If you're interested in writing for TeachThought, email us with your ideas.
Legal And Related
TeachThought is an organization of teachers trying to improve learning.
Though we are first teachers, we also act as publishers. Therefore, we make every effort to both understand and comply with all laws, policies, and regulations. We don't publish misleading content–in fact, we refuse to publish anything we don't believe pushes education forward somehow.
If you believe that we've made a mistake somehow with the use of attribution, linking, images, etc.–e.g., in correct use of Creative Commons licensing materials–please contact us and we will address the matter immediately. As creatives ourselves, we take the matter of copyright infringement, copy/pasting, content scraping, and other related activity seriously. The digital landscape is an important part of what we do, and is a matter of digital citizenship we value. For any such issues, takedown requests, etc., please email us or our Director, Terry Heick.