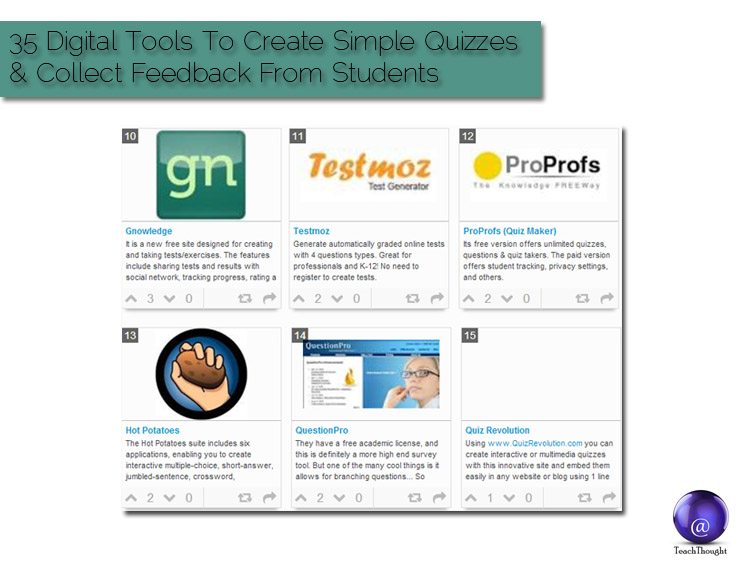 35 Digital Tools To Create Simple Quizzes And Collect Feedback From Students
If there is one thing teachers lack, it's time.
And while using technology to automate learning has been frowned upon by many, using it to automate time-consuming processes or aggregate data automatically is among the many seamless fits technology can make into any classroom. Which is where the following collections of apps and tools comes in.
These sites, tools, and apps can save teachers time by allowing them to create simple quizzes that can be taken asynchronously, and make polls and forms to collect feedback from students (content-based or otherwise).
Exist slips, pre-tests, student-created quizzes, course evaluation forms, crowdsourcing student knowledge of apps to use in a future project-based learning unit, and more.
Very cool.
Teacher tools for creating quizzes or polls
Teacher tools for creating quizzes or polls
Free tools or websites that teachers can create or share quizzes and polls. Please add your recommendations.
Grow your email list by embedding engaging quizzes into your site.

Added by Josh Haynam on Nov 18, 2013

Have you tried quizzes to spark your study and get better results? ExamTime have study tools to help you study. Build your quiz today and get learning.

Added by Andrea Leyden on Dec 16, 2013

Socrative is a smart student response system that empowers teachers to engage their classrooms through a series of educational games and exercises via smartphones and tablets. Our apps are super simple and take seconds to load and run. Teachers control the questions and games on their laptop, while students respond and interact through their smartphones/laptops. Run it as an app or on any web browser

Added by Stanley Prescott on Mar 31, 2012

Google Forms - the quizzes can even be self-grading by adding in the proper "if statements" in the underlying spreadsheet. Google Forms allows you to create many different types of questions, automatically collects usernames, sends data to a spreadsheet, self-grading options such as "if statements" but if you use a tool called Flubaroo http://www.flubaroo.com/ it is even easier to grade them. Google makes it easy to graph results as well. Google Forms also has many public templates with some quizzes that have already been made, you can use and modify them. I like the way Google Forms works with other Google Apps, you can either send the quiz to students via their mail, or embed the quiz in your Google Site.

Community builder and JomSocial 1.8 - 2.8 compatible! Sites using this product Standard Subscription $69 per 12 months 1 domain Support of 1 installation 100% access to source code Documentation Updates Support Professional Subscription $109 per 12 months Unlimited domains Support of 2 and more installations all Standard Subscription features Expert Subscription $129 per 12 months Unlimited domains Support of 2 and more installations Subscription can be upgraded at any time from Members Area Joomla Quiz Deluxe is a comprehensive and easy-to-use quiz component for Joomla!

Added by Ilona Hetsevich on Dec 12, 2013

QuestBase gives you the freedom to ask. Whether you need to create quizzes, tests, assessments, exams or get feedback from surveys and polls, QuestBase helps you save time. Millions of questions (and counting) published and printed with QuestBase! Free of charge.

Added by Paolo Mugnaini on Jul 09, 2013

Why have over 1000 organizations chosen our e-Learning software? For the same reason why many individuals have done so. For many years of e-Learning tools software development we have been examining the needs of teachers and students. And now here is the result - fully functional e-Learning system featuring all the most useful learning tools: Award winning and easy to use Joomla!

Added by Ilona Hetsevich on Dec 12, 2013

Moodle

The focus of the Moodle project is always on giving educators the best tools to manage and promote learning, but there are many ways to use Moodle.Moodle is an Open Source Course Management System (CMS), also known as a Learning Management System (LMS) or a Virtual Learning Environment (VLE). It has become very popular among educators around the world as a tool for creating online dynamic web sites for their students.

Added by Freya Lauren Kellet on Mar 28, 2012

It's a free online non-commercial resources for teachers and students, there are built in quizzes for math, science, language arts, and social studies, which are adjustable in both difficulty and length. The interface has not been limited by the pre-built and allows educators to make their own tests covering any subject and set of questions. It allows for multiple languages.

Generate automatically graded online tests with 4 questions types. Great for professionals and K-12! No need to register to create tests.
35 Digital Tools To Create Simple Quizzes And Collect Feedback From Students